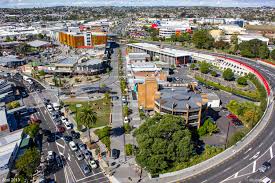 New Lynn is a residential suburb in Auckland, New Zealand. It has 5859 occupied dwellings and a population of 16,461 (2013 census). The population has seen a 17 per cent (2,400 people) increase since 2001.[1]
New Lynn is located towards the west of the Auckland urban area, 10 kilometres to the southwest of the Auckland city centre. The former boundary between Waitakere City and Auckland City lay at the eastern edge of the suburb. Suburbs surrounding New Lynn include Blockhouse Bay, Avondale, Titirangi and Green Bay.
New Lynn is located at a narrowing of the Auckland isthmus, and one of the two narrowest points joining the Northland Peninsula to the rest of the North Island (the other is at Otahuhu, to the southeast). At this point, between the Whau River (an estuarial arm of the Waitemata Harbour) in the north and Blockhouse Bay in the south, the island is a mere 2800 metres wide.
The town centre is undergoing a transformation as part of the Auckland City brownfield redevelopment programme, but currently remains dominated by a suburban mall, LynnMall. In the town centre one of Auckland's main public transit interchanges links west Auckland with other parts of the city by rail and bus. At the southern end of the suburb is one of Auckland's best known golf courses, Titirangi Golf Club.
Although the early houses in New Lynn were made of locally produced brick, most older houses are of weatherboard and corrugated iron, and were originally on large sections. Many of these sections have since been subdivided, with modern brick and tile houses added. High-density housing is predominantly near the railway line, with the start of a trend towards high rise apartments being built in the town centre.[2]